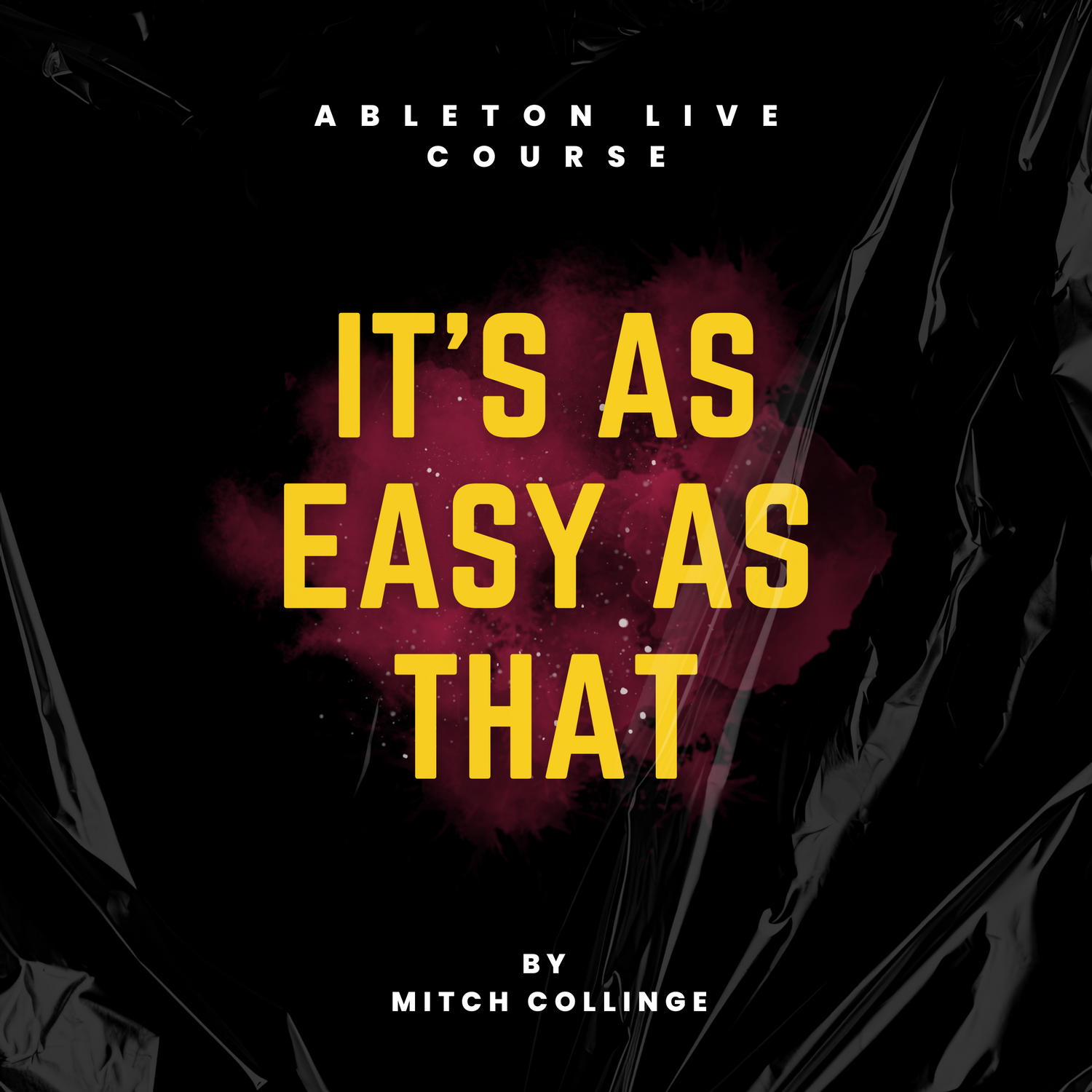 IT'S AS EASY AS THAT
A COURSE FOR BEGGINERS TEACHING YOU THE FUNDIMENTALS OF PRODUCING MUSIC IN ABLETON LIVE 11.
Button label
IT'S AS EASY AS THAT INTRODUCTION
COURSE CONTENTS
FIRST 10 MINUTES IN ABLETON

A QUICK FIRE LOOK AT YOUR FIRST 10 MINUTES IN ABLETON TEACHING YOU THE BASICS SO YOU CAN NAVIGATE THE SOFTWARE WITH EASE.
CREATING CHORD PROGRESSIONS

GIVING YOU THE SHORT CUT TO CREATING BEAUTIFUL CHORDS.
ADDING BASSLINES

FOR THE BASS JUNKIES! LEARN HOW TO MAKE YOUR BASSLINES SLAP.
ADDING DRUMS

DRUMS DONT HAVE TO BE COMPLICATED! CRUNCHY BUT SUBTLE ALL IN ONE SECTION.
SOURCING VOCALS

FINDING VOCALS CAN BE STRUGGLE BUT AFTER THIS SECTION IT WILL BE EASY.
PROCCESING VOCALS

PROCCES YOUR VOCALS LIKE A PRO.
USING EQ

EQ CAN MAKE OR BREAK A TRACK LEARN HOW HERE.
USING COMPRESSION

TAME THOSE DYNAMICS AND SIDECHAIN YOUR MELODICS IN THIS SECTION.
SETTING UP BUS FX

BUS FX ADD COHESION TO YOUR TRACK AND ALSO SOUND AMAZING.
MID/SIDE PROCCESING

CONTROL THE FREQUNCIES IN THE MID AND SIDE OF YOUR MIX.
STEREO WIDTH

STEREO WIDTH WILL GIVE YOU THAT WIDE PROFFESIONAL SOUND.
ADDING EAR CANDY

ADDING ELEMENTS TO YOUR TRACK TO BREAK THAT REPETITION.
MIX AS YOU GO

MIXING DOWN A TRACK CAN BE SCARY! BUT NOT WITH THIS TECHNIQUE.
MASTERING

THE FINAL PART OF PRODUCING A TRACK! BUT A VERY IMPORTANT PART.